Sure, it´s winter right now, but before you know it springtime will be rearing its lovely head. Even though I don´t approve of packing-away one´s grill when the temperatures start to sink, I truly enjoy seeing people dusting off the lids of their grills when Easter rolls around.
Grilling´s primary goal is to give people something better to do than most of the other stuff they have to do. Grilling is also a great provider when it comes to consuming deliciously charred morsels of breakfast, lunch and/or dinner. The only problem is that some of us wish we could do a better job behind the grill, and that my friends, is why we offer grilling classes each and every spring (and early fall).
Here are 2018´s first classes. We already have folks who have signed up, but there are still places available for all three classes.
In the mean time, here´s a photo my favorite burger anywhere, from Nic´s in Oklahoma City. Who needs Paris or Tokyo? This baby will blow your socks off.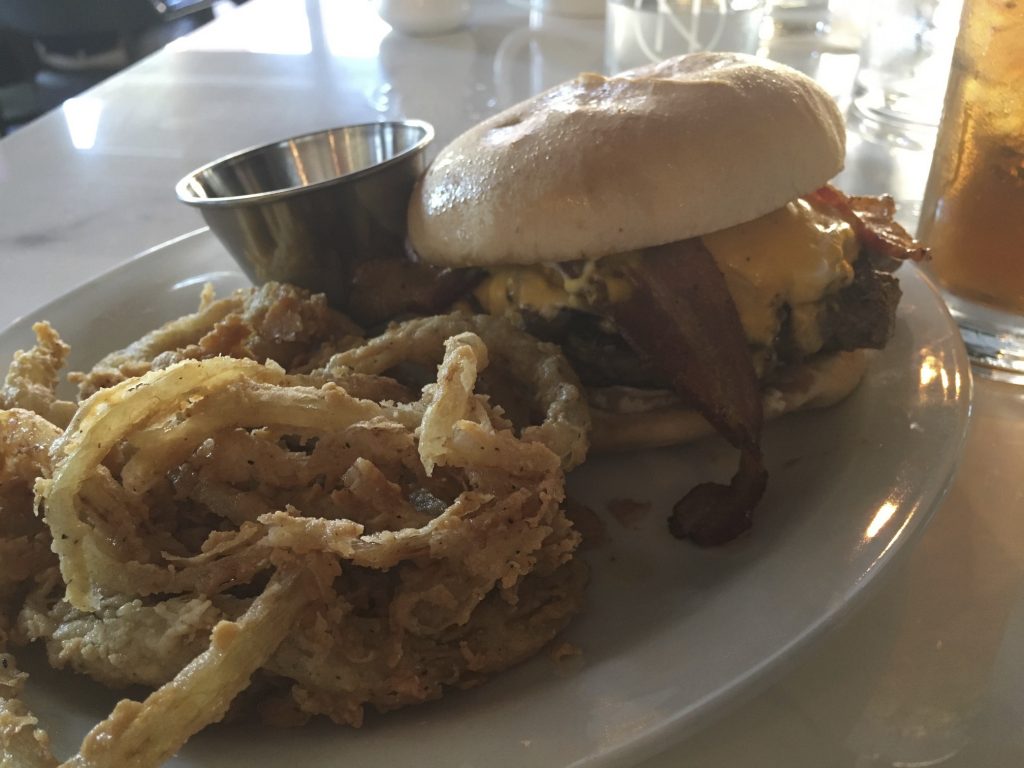 Tirsdag 24. april: Hangus + Grillkongen = Sant
Si hva du vil om grilling av sjømat og grønnsaker, men det er ingenting som kan slå kvalitets-kjøtt fra grillen. Joar Haga fra Hangus er Angus-bonde fra Tananger. Joar og Craig skal holde et kurs om grilling av Angus-kjøtt tirsdag 24. april. Vi kjørte dette kurset for Joar sine kunder i november i fjor, og det ble kjempesuksess! Vi skal snakke om storfe: stykningsdeler, modning osv, og i tillegg om grillmetoder og hvordan man gir best smak til grillmaten.
Vi skal grille burgere, biffer og andre stykker, alt av Angus-kjøtt. Vi skal også lage sauser, marinader og krydderblandinger, tilbehør, sideretter og dessert.
Joar tar også med en del kjøtt som kursdeltakerne kan kjøpe etter at kurset er ferdig. Det blir biffer, steker og kvernet kjøtt; også en del vanskelig-å-få-tak-i stykningsdeler. Det blir en kjekk, uformell kveld med massevis av god mat.
Kurset starter kl 17.00 og er ferdig ca. kl 22.00. Pris kr 1.350,- per person for kurset og maten. Drikke kan kjøpes under kurset.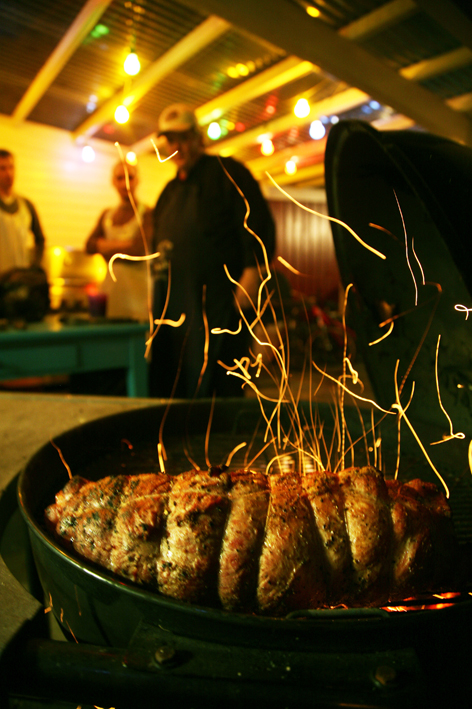 Tirsdag 8. mai: Grilling og atter grilling!
Onsdag 23. mai: Grilling og atter grilling!
Dette er kurset for dere som vil gjøre noe mer ut av grillingen. Vi griller for harde livet: kjøtt, kylling, diverse sjømat, grønnsaker, og mer. I tillegg lager vi sauser, marinader og krydderblandinger, salater, sideretter og knallgod dessert.
Alle kursene er bygget opp slik at kursdeltakerne lager all maten, Craig styrer grillingen og kokkene vår hjelper med tips og råd. Vi bruker både gass- og kullgrill, og vi viser forskjellige typer utstyr som gjør grillingen lettere å håndtere. Det handler om å bruke gode råvarer kombinert med grillkunnskap, om det er bruk av trefliser for å gi mer smak til maten eller langtidsgrilling (indirekte grilling) for større stykker kjøtt og fisk. Vi viser hvordan råvarene skal behandles og metodene som brukes for å få frem det beste i dem. Disse kursene er for dere som vil ta grillingen til det neste nivået. Det blir kjekke, uformelle kvelder med massevis av god mat.
Finn en dato som passer, og meld deg på!
Kursene starter kl 17.00 og varer til ca. kl 22.00.
Pris kr 1.350,- per person for kurset og maten. Drikke kan kjøpes under kurset.
Påmelding:
Epost: helle@craig.no