Since I'm only in Oklahoma for a small part of the year I've been forced to make good egg dishes at home, including this one: Juan Herrera's Papas con Chorizo, a combination of eggs, homemade chorizo, onions, peppers, cheese and Fuego Fries (their wonderful seasoned 'n fried potatoes). This amazing breakfast is served with warm, fresh corn tortillas and a salsa so good I have considered kidnapping Juan and (if I have to) pistol-whipping the recipe out of him. 
Last year's visit to The Memphis in May World Championship Barbecue Cooking Contest was the ninth in a row for The Norwegian National Barbecue Team. We usually tack a long weekend onto the front end of the trip
We did a barbecue tour in central Texas a few years back and we have eaten our way through New Orleans, San Francisco, Chicago and other culinary playgrounds.
Last year I decided to take the team to my old stomping grounds in Oklahoma. We had a great time and even though two of my favorite barbecue joints were not at the top of their game, we had some really good food.
We had great breakfast at Cattlemen's Steak House in Oklahoma City, but our favorite was Juan del Fuego in Norman. I have without exception had superior food at Juan del Fuego, and the team members were impressed with their Mexican- and American-inspired breakfasts. Boring old me again went for Juan Herrera's Papas con Chorizo, but the rest of the crew were (slightly) more adventurous.
Apparently pretty much no one running a restaurant in Norway has understood just how important egg dishes are to a healthy, happy life on Earth, but in the good ole US of A, eggs are more valuable than gold. 
Here is a recipe for a helluva good Sunday breakfast – or brunch. You might even consider asking your designated driver to whip up a batch after driving you home from a had-too-much-fun night on the town. Remember: this dish is an homage to Papas con Chorizo. This dish is outstanding, but I can promise you, if you have tickets to New York, Miami or LA, it would be well worth the extra charges to re-route your trip through Oklahoma City. Why? Because eating the one and only, original Papas con Chorizo is one of those rare culinary gifts that come around only a few times in our lives. You can eat New York pizza and Miami´s Cuban sandwich in other cities than the original, but this dish is only available in the state that gave us Woody Guthrie, Leon Russell and Mickey Mantle. In the meantime I´m counting down the days until I can revisit Juan and Elayne Herrera's breakfast temple.
Papas con Sausage
(enough for 4 hungry campers)
 

2 Tbs vegetable oil

1/2 lb breakfast sausage (see recipe under)

1 medium onion, peeled and chopped

4 medium potatoes, boiled, peeled and cut in small cubes (leftover boiled potatoes will definitely do the trick)

MexiRub (see recipe under)

2 Tbs unsalted butter

8-10 large eggs (depending on just how hungry your campers are)

salt and freshly-ground black pepper
Fry the onion and sausage in the oil in a large frying pan until browned.
Add the potatoes and continue cooking until the start to brown.
Sprinkle MexiRub over the top of the sausage and potato mixture and mix well. Continue cooking until the potatoes are browned. Remove the pan from the heat.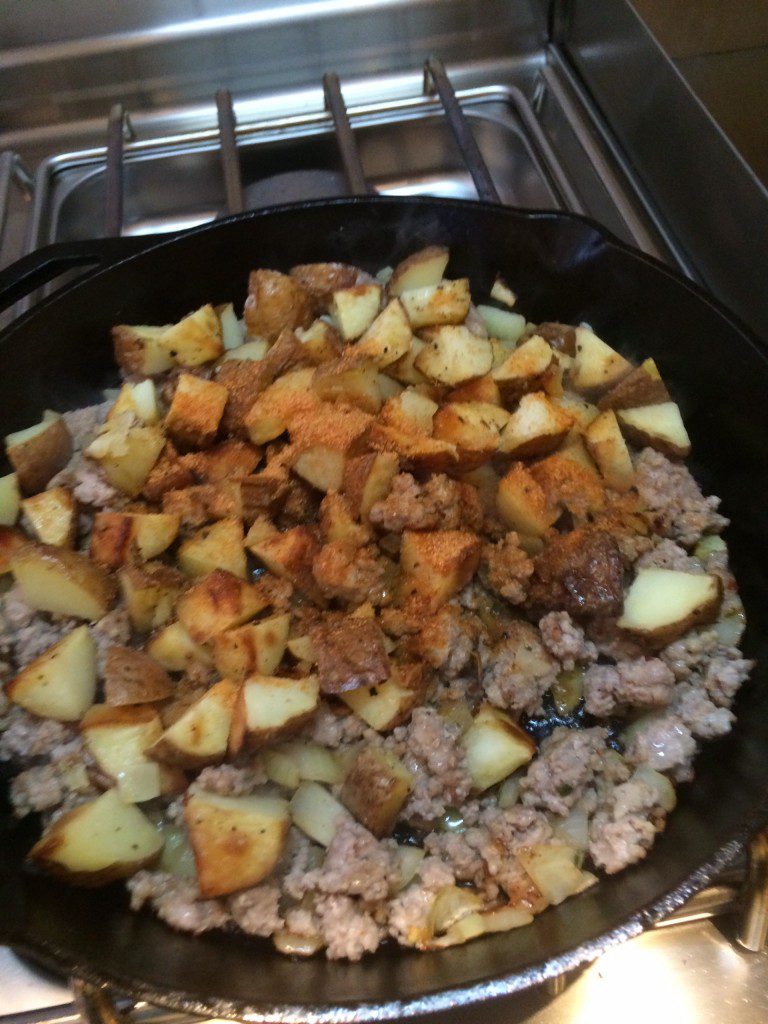 Melt the butter on low heat in another large frying pan.
Whip together the eggs with a pinch or two of salt and pepper and add to the pan with the melted butter.
Wait until the edge of the eggs starts to set and gently mix using a spatula. Continue this slow-cooking until the eggs have just set (do NOT overcook the eggs).
Pour the scrambled eggs into the pan with the sausage and potatoes and gently stir sammen. Check for salt and pepper (and you might just want to add a bit more MexiRub at this point).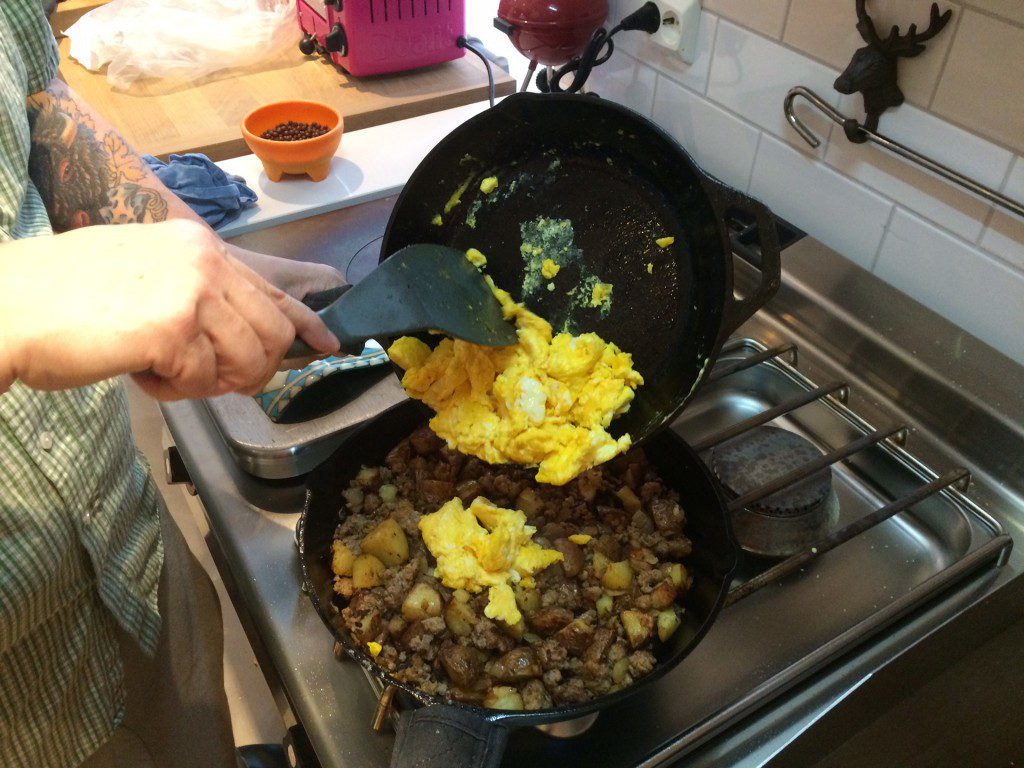 Serve from the pan or pour into a serving bowl. Top with some grated cheese, salsa fresca, fresh tomatoes or cilantro if you want to. If you don't have warm corn tortillas you can drop the extra carb or serve with flour tortillas or bread.
By the way: You are not human if you don't serve hot sauce with this dish.
Breakfast Sausage
I use this mixture instead of chorizo, but if you've got chorizo, do use it. This recipe is for a large batch of sausage. What you don't use you can freeze. I never ever ever don't have sausage in the freezer at home.
3 lb ground pork

2 ts kosher salt (alt. 1 1/2 ts table salt)

2 ts freshly-ground black pepper

1 Tbs finely-chopped fresh sage

1 ts finely-chopped thyme

1 ts brown sugar

1/2 ts grated nutmeg

1/2 ts cayenne pepper

1/2 ts chile flakes (red pepper flakes)
Mix all the ingredients together in a large bowl. Store covered in the fridge until ready for use.
MexiRub
Use this mixture with ground beef for American-style tacos or on pretty much anything you want to give a little south-of-the-border flavor to. 
4 Tbs chili powder

3 Tbs ground paprika

2 Tbs ground cumin

2 Tbs kosher salt (alt. 1 1/2 Tbs table salt)

2 Tbs garlic powder

2 Tbs onion powder

1 ts ground coriander

1 ts sugar

1/4 ts cayenne pepper
Mix all ingredients together in a small bowl. Store the remaining rub in an air tight jar in a dark kitchen cabinet.
---
 In a Nordic language:
Papas con Sausage steg for steg
(nok til 4-6 sultne gjester)
 

2 ss matolje

250 g breakfast sausage (se oppskriften under)

1 middelstor løk, skrelt og haket

4 middelstore poteter, kokte, kjølte ned og skåret i terninger (gårsdagens kokte poteter vil fungere fint)

MexiRub (se oppskriften under)

2 ss usaltet smør

8-10 store egg (avhengig av hvor sultne gjestene er)

salt og kvernet sort pepper
Stek løk og sausage i olje til passe brunet i en stor stekepanne.
Tilsett potetene og stek videre til de begynner å få en fin farge.
Dryss litt MexiRub over blandingen og rør godt sammen. Stek videre til potetene har også fått en fin farge. Ta stekepannen vekk fra varmen.
Smelt smøret på lav varme i en annen stor stekepanne.
Pisk sammen eggene med bittelitt salt og pepper, i en bolle, og hell over smøret i pannen.
Vent til eggene er blitt litt faste rundt kanten, og rør forsiktig med en slikkepott. Fortsett denne "slow-cooking" til eggene er så vidt ferdige (IKKE steke eggene for lenge).
Hell eggerøre over i pannen med sausage og potetene, og rør forsiktig sammen. Sjekk for salt og pepper, og ev. litt mer MexiRub.
Server fra pannen eller hell alt over i en serverings bolle eller-fat. Topp eventuelt med revet ost, en frisk salsa, hakket tomater og/eller frisk koriander. Server med varme tortillas eller brød.
By the way: Bare et udyr vil servere denne retten uten en god hot sauce ved siden av.
Breakfast Sausage
Her har jeg brukt den erkeamerikanske breakfast sausage istedenfor meksikansk chorizo. Bruk gjerne chorizo eller en annen god pølse-farse hvis du vil. Restene av sausage kan fryses og brukes til en annen frokost. Jeg har aldri et fryseskap som er tom for breakfast sausage. Aldri! 
1,4 kg kvernet svinekjøtt

1 1/2 ts bordsalt

2 ts kvernet sort pepper

1 ss finhakket frisk salvie

1 ts finhakket frisk timian

1 ts brunt sukker

1/2 ts revet muskatnøtt

1/2 ts kajennepepper

1/2 ts chiliflak
Bland sammen alle ingredienser i en stor bolle. Frys restene av sausage.
MexiRub
4 ss chilipulver (vanlig "butikk" chilipulver)

3 ss malt paprika

2 ss malt spisskummen

2 ss hvitløkpulver

2 ss løkpulver

1,5 ss vanlig salt

1 ts malt koriander

1 ts sukker

1/4 ts kajennepepper
Bland sammen alle ingredienser i en liten bolle. Her igjen er det mer enn trengs. Oppbevar resten i en lukket beholder i et mørkt skap.