This website is kind of quirky. You will find both English and Norwegian used. Get over it.
Food is my thing. I grew up as a musician, but after many years of "What do you mean $20 (or NOK 200)?", living on a bus, and a long line of hot dogs, Veslandslefsa and beer, just didn't weigh up against those couple of hours onstage. The whole food thing happened kind of by accident, but I'm sure happy about that particular accident.
Some articles and recipes on this site are and will be written in English, and others in Norwegian. Instead of feeding the words through some crappy translation program – or using all those extra hours translating back and forth – I have decided to let the site live life as bi-lingual. Make the best of this opportunity. Learn a second language while cooking and eating. How cool is that?
Here is 
Craig

 in a nutshell:

1954 Born in Oklahoma City, OK
1968 Started working as a musician (drums). Worked as musician part- and full-time until 1985. Also worked as shoe shine boy, gas station attendant, band manager and for one year living on a farm doing everything from building fences to artificial insemination of cattle. Making food was my main hobby from an early age.
1980 Traveled to Stavanger, Norway to visit his brother. Started playing in a band (Englakoret) a few months later and – BAM! – he was living in a foreign country. Who'd a thought? Played with several bands over the next several years: Mods, Ryfylke, Stick It Out …
1983   Got a job working in a newly-opened café (Café Sting). As one who always loved to cook and who as a musician, wasn't overly familiar with a paycheck coming every month, this seemed like an outstanding idea. The result: more and more cooking; less and less drumming.
1986 Opened Norway's first Mexican restaurant ("The Adventures of Harry Pepper the Telephone Man On His Way to Mexico" also known as "Harry Pepper"). Was there until 1993 after being offered a chance to open a new American restaurant called Storyteller. Opened in 1994.  A year later: "I'm outta here!"
1987   Craig met Helle Mellemstrand. It may sound a bit seedy to say that she was a customer in the Harry Pepper bar where he was working, but hey, that's what happened.
Helle was (and still is) an artist who in addition worked with C in his diverse gastronomic endeavors. They have two sons, Noah (born in 1989) and Odin (born in 1991). The expression "the woman behind the man" has never been more true …
1989 – sometime around 1994   Blurry; babies, work, lots of action.
1993 In addition to restaurant work, Craig started writing a food column for the local newspaper (this lasted until 2010), and for a while also a wine column in the same paper. Wrote articles about food and wine for several publications and still writes the occasional piece, when the mood strikes.
1995 After several years of working with Mexican, Cajun, Creole and other American foods, and with a growing interest in wine, he opened "Craigs Kjøkken" (Craig's Kitchen), also in Stavanger. The restaurant received several awards including "Norway's Best Wine List", in addition to "Award of Excellence" from Wine Spectator magazine from 1997 – 2002, and "Best of Award of Excellence" from 2003 until closing in 2009.
He was also involved in the opening of Café Italia in 1999 (also a Wine Spectator award winner), and in periods worked with importing both food and wine from southern Europe and the US.
1998 Won 1st place for dessert pizza at the Pizza Expo competition in Las Vegas. This was a project done together with Tore Gjesteland and Trond Moi. Again: who'd a thought?
2000 (+/-)   Craig focused more and more on turning his hobby (backyard grilling and cooking real American barbecue) into work. It was at this time he crowned himself Grillkongen (King of the Grill), primarily because pretty much nobody in Norway took grilling seriously.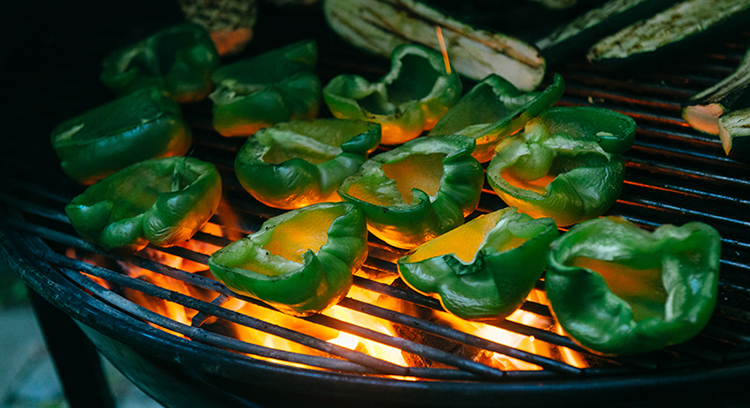 This was the "Jekyll & Hyde Period", with Craigs Kjøkken in the fine dining corner and Grillkongen's "low and slow" activities in the other corner.

2005 – now  Opened "Uthuset", the newly-renovated building that housed "Stavanger Elektriske Bakeri" from about 1920 until 1965.

This was the first bakery in Stavanger using electric ovens (hence the name). Uthuset is all about cooking classes/teambuilding, with strong focus on grilling/barbecue. And Uthuset is located in the backyard where Craig and Helle live. Pretty convenient, huh?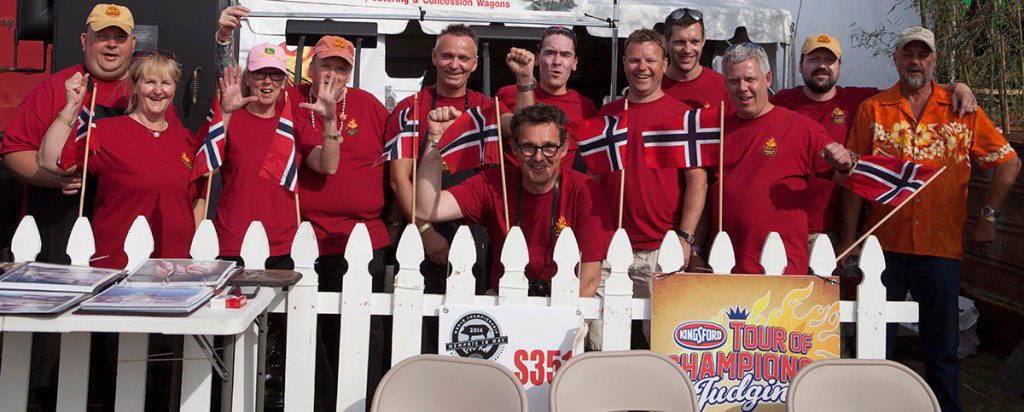 2007 – now Established "The Norwegian National Barbecue Team". Here are some of the team's awards, all at the Memphis in May World Championship
Cooking Contests
2007: 3rd place in "Exotic" (with lamb)
'2008: 4th place in "Seafood", plus 3 other Top 20 rankings
2009: 2nd place in "Beef", 2nd place in "Exotic", 6th place in "Mustard Sauce"
2010: 3rd place in "Peoples Choice" (Boston butt) and 4th place in "Exotic"
2011: 1st place in "Peoples Choice"
2012: 3rd place in "Exotic", 6th place in "Beef" and finally a Top 10 award for the main category (Pork Shoulder) with 8th place. Also an award for the "Green Team" of the year.
2013: 4th place in "Beef"
2014: 4th place in "Mustard Sauce"
2015: 3rd place in "Exotic"; also 4th place in "The Kingsford Tour of Champions"

2016: 6th place in "The Kingsford Tour of Champions"

2017: 13th place in "Hot Wings" (best ever for us in "Wings"); also 16th in "Exotic" and 17th in "Poultry"

2019: 11

th

place in "Turkey Smoke"; 14

th

place in "Poultry"
Then came Corona…
2022: Back in Memphis. Tied for 1st place in "Beef"
Product development
2009 – now   Today Craig works primarily with product development for grill-related (and other) food products for REMA 1000, a grocery store chain with over 1000 stores in Norway and Denmark.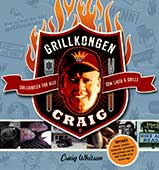 After the grill campaign that REMA 1000 and Craig put together for the spring/summer of 2009 grilling has become big business. It might be worth mentioning "It was about damn time!".
In 2023 Craig will be launching the first products in his own Grillkongen Craig line: Farmhouse Bacon, Pepper Bacon and Hot Link Sausage. Check 'em out!
Cookbooks
1998 Co-author (with writing credits) of "JazzPizza", a cookbook based on the work done for the competition in Las Vegas.
2003 First book about grilling "Far lukter svidd" ("Dad's on Fire") was published. The same year this book was chosen as one of the 10 best cookbooks ever published in Norway.
2003  "Far heter Daddy" ("My Father is Called Daddy"), a book about American food was published.
2004  "al dente", a book about classic Italian food, was published.
2006  "Grillkongen Craig" ("Craig: King of the Grill") was published.
2010  "Ingen røyk uten grill" ("Where There's Smoke, There's a Grill") was published
2014   "Verdens Beste Pizza" ("The World's Greatest Pizza") was published. Coming out in March 2015 in the US under the title "Passion for Pizza.
2015   "Passion for Pizza" (the American version of "Verdens Beste Pizza") was released in the US by Agate Publishing.
Other awards
2003  "Gladmatprisen" award (the "food person" of the year at Norway's largest food festival).
Other work
Craig has also worked as a consultant for several restaurants, judged wine and food tastings and competitions, held seminars on food and wine, taught tons of cooking classes (can one really teach "tons" of anything?).