Why all the fuss about aioli? So-called experts say that any aioli not whipped together by hand is not worth eating. Humbug! A good machine-made aioli is better than pretty much anything you will find in a store and as good as or better than most of what you will find prepared by restaurants, cafés and the like. Aioli is unbeatable with vegetables, fish, meats, as a dip, on bread … wait, let´s just say that aioli isn´t that great with dessert, but otherwise good to go!
The following recipe is foolproof. I have made this aioli over and over and I´ve watched cooking students make it hundreds of times. I have only seen it botched a couple of times, only because the ones making it just didn´t care about life.
A blender is my weapon of choice for making aioli though a food processor will also work. Writing on a computer does enough damage to our wrists. Why make matters worse by attempting a hand-whipped aioli that very well might not work?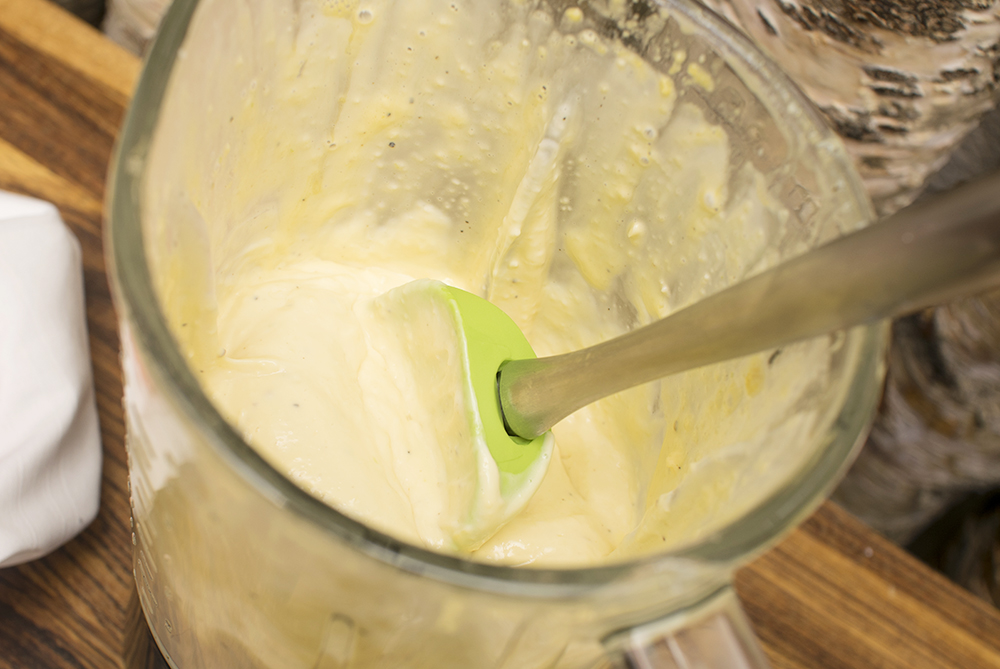 The ingredients are simple: egg, lemon, vinegar, mustard, garlic, oil, salt and pepper. A neutral oil is a must. Make this baby with extra virgin olive oil and you´re in for a big surprise. I use black pepper but white is fine, especially for those of you whose OCD won´t let you use black pepper in a white (or in this case off-white) sauce. My version of OCD doesn´t mind the pepper but insists on a bit more lemon juice when the aioli is finished. I love that sharp garlicky taste when it´s backed up by that sharp lemony taste.
One last thing: Don´t double this recipe. It can still work but usually not. If you need more aioli just repeat the recipe after washing and drying your blender.
One more last thing: Drop the garlic and you´ve got majones. Add some finely-chopped herbs (favorites are tarragon and parsley) and you´ve got an herb aioli. You can also add chiles (or even easier hot sauce) if you like. And yes, you will like.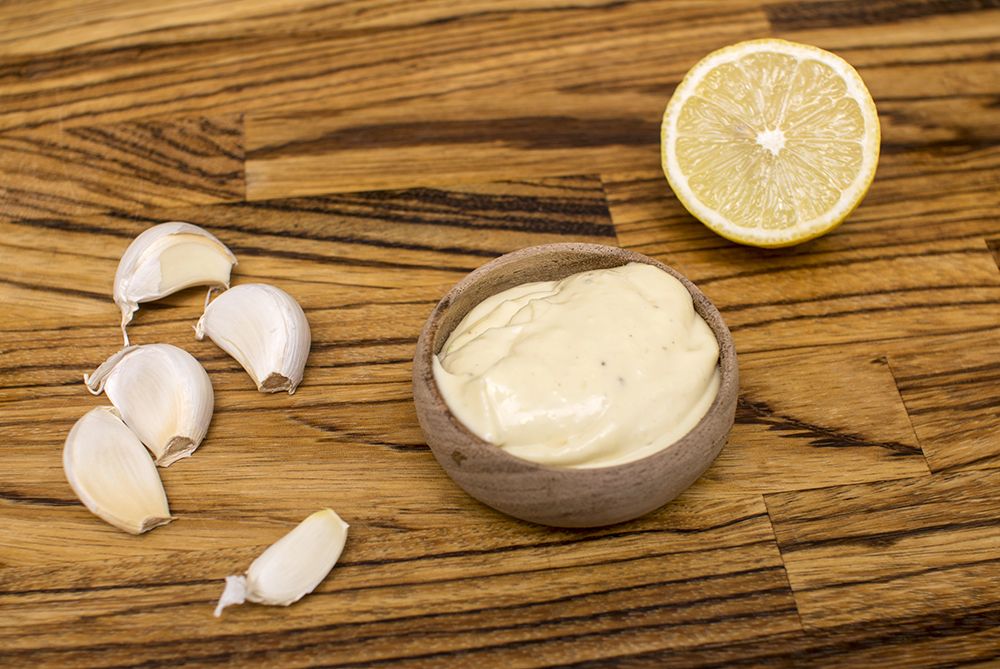 Aioli
3 ss presset sitronsaft
1 ts hvitvinseddik
2 ts Dijon-sennep
en klype salt
4-5 hvitløkfedd, hakket
1 egg
1 eggeplomme
4 dl solsikkeolje
salt og kvernet pepper
1. Ha sitronsaft, eddik, sennep, salt og hvitløk i en blender. Kjør til blandingen har en passe jevn konsistens.
2. Ha i egget og eggeplommen mens maskinen fortsatt går.
3. Spe på med oljen i en tynn stråle til aiolien har tyknet.
4. Smak til med salt og pepper, ev. litt mer sitronsaft.
Aioli
3 Tbs freshly-squeezed lemon juice
1 ts white wine vinegar
2 ts Dijon mustard
a pinch of salt
4-5 garlic cloves, chopped
1 egg
1 egg yolk
1 3/4 c sunflower oil
salt and freshly-ground pepper
1. Put the lemon juice, vinegar, mustard, pinch of salt and garlic in the blender. Purée until you have a fairly smooth mixture.
2. Add the egg and the egg yolk while the blender is still running.
3. Add the oil in a slow stream as the aioli thickens.
4. Season with salt and pepper and (most likely) a bit more lemon juice.