These trainwreck-looking potatoes are worth their weight in gold, therefore the name. Fort Knoks Potatoes are parboiled, seasoned, baked, smashed, re-seasoned and baked again. They are way easier to prepare than french fries, but equally as crispy, equally as good. These ugly (as in good-ugly)  potatoes are irresistable, even straight from the fridge.
Another reason for the name, and an explanation of the apparent misspelling, is my local car junkyard here in Stavanger. The name is Knoks (pronounced k-nox), and locally the word knoks refers to things being smashing. It could be a car or it could be a potato, and it is the smashing of the potatoes that gives them that off the charts great flavor. If you have ever eaten a classic British roasted potato you know what I am talking about, and the extra smash amplifies that wonderful roasted potato flavor. Here is the recipe.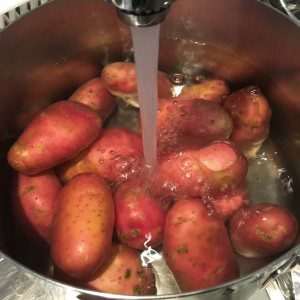 Fort Knoks Potatoes
You can make any amount you want of these beauties. The amounts are "roughly", but the important thing is to make enough of them. They reheat well and it´s difficult to think one might get tired of them.
2 kilos medium potatoes (with good-looking skins; not new potatoes)
extra virgin olive oil
salt
freshly-ground black pepper
optional: whole, peeled garlic cloves, fresh herbs such as thyme or rosemary, fresh chiles, grated sitrus peel (lemon, lime and/or orange)
Preheat the oven to 180° C (350° F)
Parboil (as in partially boil) the potatoes for about 8 minutes (less with smaller potatoes, a few minutes more if the potatoes are larger)
Remove the potatoes from the heat and pour off the water.
Put the pan with the potatoes back on low heat for about a minute to rid them for excess moisture.
Pour a generous dollop of olive oil over the potatoes. Add salt and pepper and mix well.
Put the potatoes on a baking sheet and bake in the oven until about 3/4 done (30-40 minutes, possibly a bit more).
Remove the potatoes from the oven and place the baking sheet on the kitchen counter.
Use a small, heavy-bottomed pan to smash the potatoes to a thickness of about 1/2 inch.
Pour over more olive oil and add more salt and pepper. You can also add any of the optional ingredients at this point. Don´t use a half hour on this; just throw the stuff over the potatoes.
Put the potatoes back in the oven for about 45 minutes until brown and crispy. If they are not crispy enough at this point increase the oven temperature to about 240° (450° F). Keep a close eye on the potatoes so that they brown up nicely but don´t burn.
I love serving these potatoes with sour cream, but hey, they are now your potatoes. If you want you can melt some grated cheese over them during their last minute or two in the oven (cheddar, gruyère or parmesan work well). Eat them as they are or top them with bacon bits or chives. It´s your call.
Fort Knoks-poteter
Lag så mye eller så lite du vil av disse potetene. Det går bra å varme dem opp igjen, og du blir aldri lei av dem.
2 kg middelstore poteter (med fint, frister-å-spise skall; ikke nypoteter)
extra virgin olivenolje
salt
kvernet sort pepper
fritt valg: hele, skrelte, hvitløkfedd, frisk urter som timian eller rosmarin, fersk chili, revet sitrus-skall (sitron-, lime- og/eller appelsin-)
Forvarm ovnen til 180° C
Kok potetene i ca. 8 minutter (mindre hvis små poteter, noe mer hvis store poteter)
Ta gryten med potetene vekk fra kokeplaten og sil av vannet.
Ha pannen på kokeplaten i 1-2 minutter til for at resterende vann fordampes.
Hell olivenolje over potetene. Tilsett salt og pepper og bland godt sammen i gryten.
Legg potetene på en stekeplate. Bak i ovnen til ca. 3/4 dels ferdige (30-40 minutter, kanskje litt til).
Ta potetene ut av ovnen og legg stekeplaten på kjøkkenbenken.
Bruk en små, tung gryte til å "knokse" potetene til ca 1-1,5 cm tykk.
Hell over mer olivenolje og tilsett mer salt og pepper. Nå kan du bruke noen av tilleggsingrediensene hvis du vil. Ikke fundere på dette altfor lenge; bare hell oppå det som frister mest.
Ha potetene i ovnen igjen i ca. 45 minutter, til de er brune og sprøe. Hvis ikke de har fått nok farge og "krønsj", sett opp varmen til 240°. Pass godt på potetene slik at de får en fin farge men ikke brenner.
Jeg elsker å spise rømme med disse potetene, men hei, nå er disse dine poteter. Hvis du vil så kan du toppe dem med revet ost under de par siste minutters steketid. Prøv med cheddar, gruyère eller parmesan. Spis potetene som de er, eller topp med sprøstekte baconbiter eller finhakket gressløk. Nå er det opp til deg!