Making out-of-the-box tacos on Friday evening does not make one a Mexican chef. Any true Mexican chef has probably never even tasted one of those so-called tacos. Why? Because they are not Mexican. They are an American twist on a real taco, a totally different and way better taco.
I am worlds away from being an expert on Asian food. I love all kinds of Asian food and can even prepare versions of some Asian dishes. I am a much better consumer of Asian food, which is fine by me.
If most of us were told to prepare something Asian the first product we would secure is soy sauce. I certainly would. This would be our "guarantee of authenticity". Some of us would grab some ginger and chiles while others would choose cilantro (fresh coriander) and rice wine vinegar.
One reason I love this recipe is that it tastes great. The other reason is that it is, in its own way, Asian. At least it seems to be Asian. But, there is not a single drop of soy sauce to be found. And that is kind of cool isn´t it?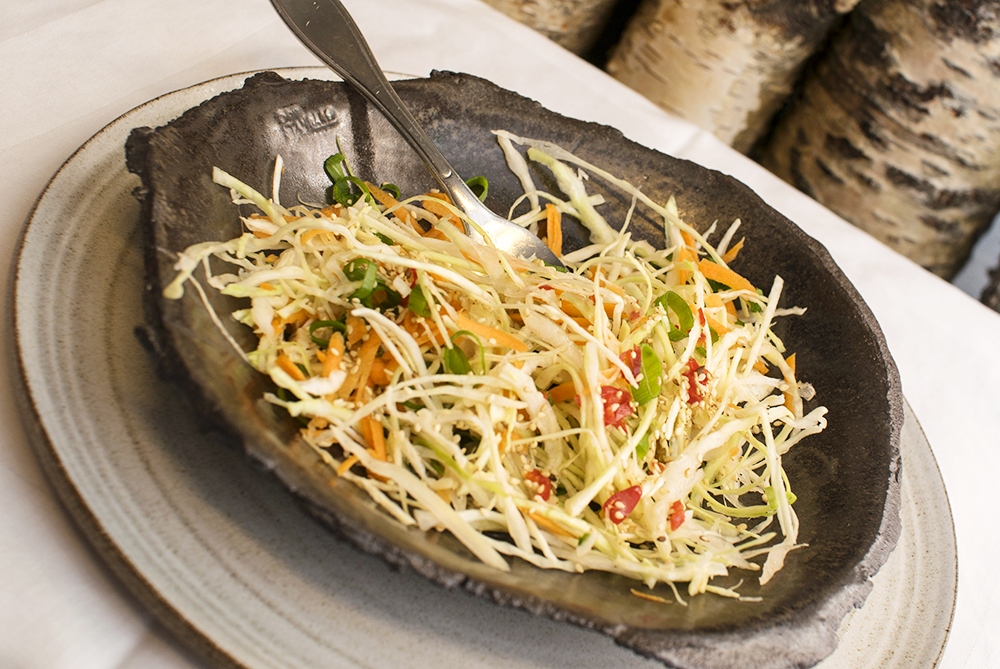 In case I fail in authenticity I´ll at least give it a name leading Eastwards:
Asian Slaw
Vi begynner med dressingen. Den har godt av å stå litt før den blandes med grønnsakene.
Dressing
3 ss presset sitronsaft
1 ss risvinseddik (alt. hvitvinseddik, selv om den er tross alt mindre "asiatisk")
2 ts sesamolje
1 ts sukker
6 ss solsikkeolje
Bland sammen alle ingrediensene i en bolle. Rør godt til sukkeret har gått i oppløsning.
Grønnsaker og det hele
1 lite hodekål, renset
3 gulrøtter, skrelte
4–5 vårløk, "det hvite" og noe av "det grønne"
1 håndfull frisk koriander
1 frisk rød chili
4 ss ristede sesamfrø (rist i en tørr stekepanne men pass på at de ikke brenner)
1. Skjær kål i tynne strimler, og deretter finhakk den. Riv gulrot. Rens og hakk vårløk. Grovhakk koriander og finhakk chili. Ha kål, gulrøtter, vårløk, koriander og chili i en stor bolle. Bland godt sammen.
2. Tilsett dressingen. Bland alt sammen. La salaten trekke i minst 30 minutter.
3. Topp med sesamfrø og server.
Asian Slaw
We start with the dressing since it will only get better after resting for a while.
Dressing
3 Tbs freshly-squeezed lemon juice
1 Tbs rice wine vinegar (or white wine vinegar, even though it´s less "Asian")
2 ts sesame oil
1 ts sugar
6 Tbs sunflower oil
Mix the ingredients together in a bowl. Stir until the sugar has dissolved.
Veggies and stuff
1 small head of cabbage
3 carrots, peeled
4–5 green onions, the white part and some of the green
1 handfull of cilantro
1 fresh red chili (any favorite chile, red or green will suffice)
4 Tbs toasted sesame seeds (toasted in a dry pan; make sure the seeds don´t burn)
1. Slice the cabbage in very thin slices (a mandoline will sure help), and then mince. Shred the carrots and thinly-slice the green onions. Roughly chop the cilantro and mince the chili. Mix all the vegetables together in a bowl.
2. Add the dressing. Mix well and let the slaw get happy for about a half hour.
3. Top with the sesame seeds and serve.