Photos: Mette Randem
Quesadillas are simply tortillas (therefore "-dillas") filled with cheese (therefore "queso"), but there are any number of twists used to "spice up" this wonderful dish. Today´s recipe is a favorite and was on the menu at my first restaurant – thirty years ago this year. We made the quesadillas in the kitchen, but they are even better hot off the grill.
These quesadillas are filled with shrimp, garlic and tomato. Use a good cheese and Bam! – you´re there!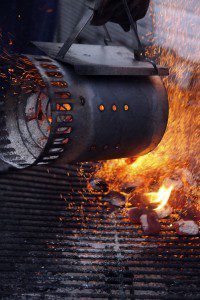 Quesadilla med scampi
12 scampi, skrelte og skåret i passe biter
litt olivenolje
¼ løk
3–4 hvitløkfedd
3 modne tomater
havsalt og kvernet svart pepper
1 ss tabascosaus
Rens og finhakk løk og hvitløk. Hakk opp tomatene. Stek løk, hvitløk, tomat og scampier i litt olje i en stekepanne. Ha på litt salt og pepper, samt tabasco.
Rør godt, og når scampiene har fått farge, kan du fjerne pannen fra varmen.
Og så
8 middelstore hvetetortillas
revet cheddarost (alt. vellagret Norvegia eller Jarlsberg)
Legg tortillas på kjøkkenbenken.
Topp halvparten av hver tortilla med en åttendedel av cheddarosten, og en åttendedel av den ferdigstekte scampiblandingen.
Brett tortillaene over slik at du får åtte «halvmåner».
Grill quesadillaene på indirekte varme til osten smelter. Gi quesadillaene noen sekunder på hver side på direkte varme for å gi dem litt grillfarge.
Server gjerne med tomatsalsa, rømme og guacamole.
Tips
Prøv også quesadillas med Rajas istedenfor (eller i tillegg til) scampi- og tomatblandingen.
Rajas
1 grillet rød paprika, skrelt og skåret i strimler
1 grillet grønn paprika, skrelt og skåret i strimler
1–2 ferske jalapeño-chili, renset og skåret i tynne strimler
2 ss solsikkeolje
½ ts tørket oregano
salt
Stek paprikastrimlene og jalapeño-chili i oljen i pannen i ca. et minutt (grønnsakene skal være så vidt myke). Ha i oregano, smak til med salt, og stek i ca. et minutt til. Rajas er også godt som tilbehør til det meste av grillet fisk eller kjøtt.